To aid in our pre-operative assessment of our patients, we use the Corneal Endothelial Cell Counter and Pachymeter from Konan, Japan. This piece of technology allows us to assess the overall health of a patient's cornea and helps us decide whether cataract surgery is safe in patients with advanced, over-mature cataracts and whether the patient is suitable for the newer types of high myopia correction like Implantable Contact Lenses or Phakic Intraocular Lenses.
Low endothelial cell counts and preexisting dystrophies can affected outcomes after uneventful cataract surgery hence surgeons are finding these data points critical when recommending toric and multifocal intraocular lenses.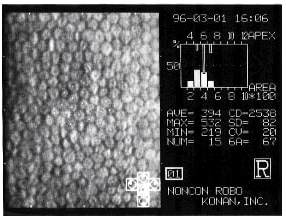 General Corneal Health Assessment
Konan specular microscopy is also an invaluable tool to screen for corneal diseases as such as Fuchs' Dystrophy, keratoconus, other corneal dystrophies, and trauma.